Blog
Introducing Customer Actions for Jira
Wed Jul 20 2022
Introduction
Your customer portal is the face of your company for your clients and customers.It's the platform where they raise their requests, queries, and feedback - and it's essential that it's interactive, efficient, and user-friendly. This is where Customer Actions for Jira comes in.
Customer Actions for Jira helps you make your Jira Service Management portal more interactive, allowing customers to edit issues, add additional information, sign documents, and link issues. With these features, you can greatly extend the capabilities of your customer portal and enhance your customer's experience.
Editing issues
One of the standout features of Customer Actions for Jira is the ability to allow users to edit issues after they've been created. Customers can change information they've entered, providing more details on their requests, and keeping the information accurate and up-to-date - that's especially useful in situations where customers may have forgotten to provide crucial information during the initial request creation process.
It also helps to reduce the number of back-and-forth communications between customers and support teams, as customers can simply add the missing information directly to the issue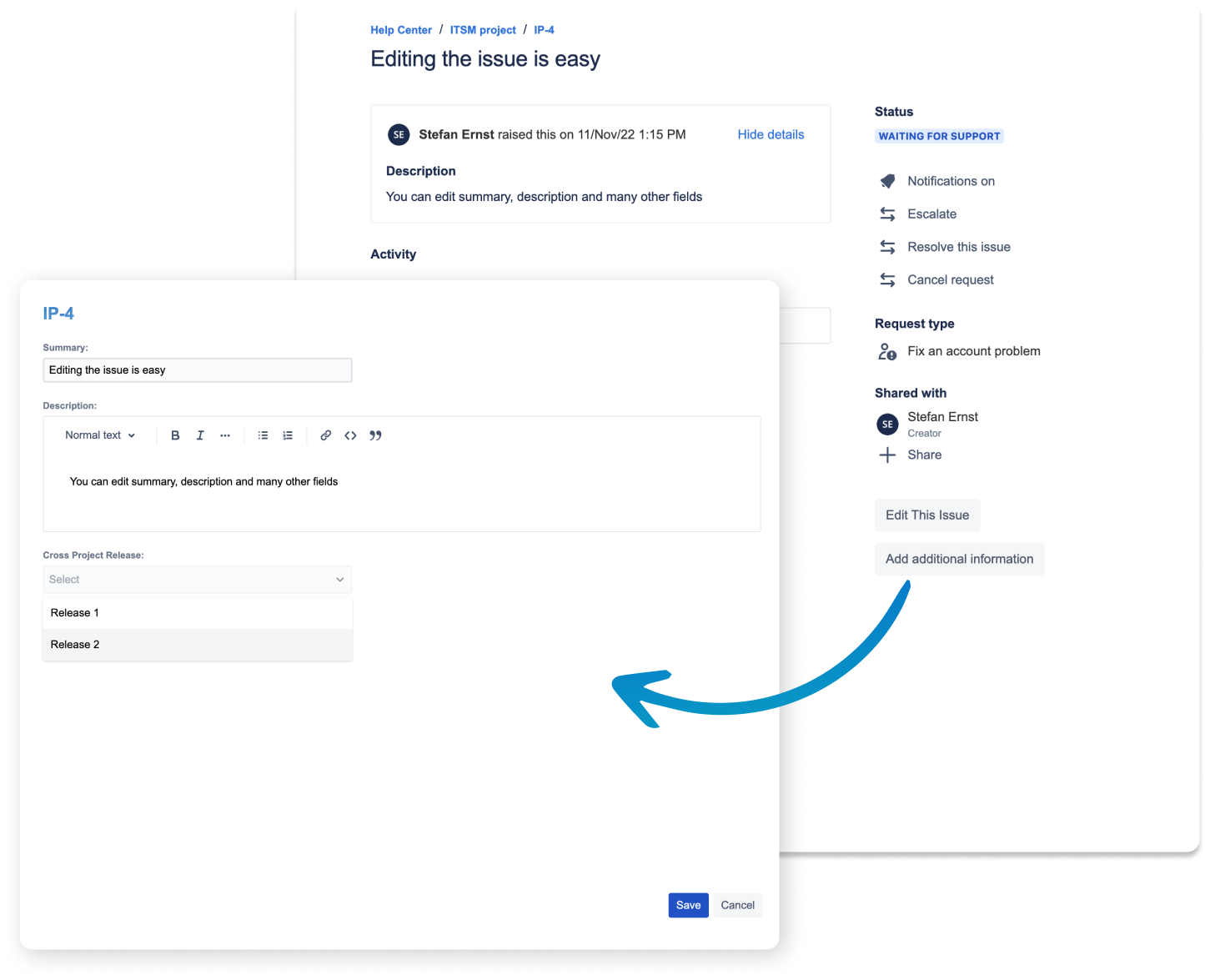 You can select which fields can be edited on a request type, who is able to edit them and when and if they can be updated by specifying conditions. For example only allow customers to edit issues that are not resolved or when a certain date has been reached.
The app supports many custom field types, including user fields. So you can even enable portal users to change the reporter of an issue if needed, or select approvers after ticket creation.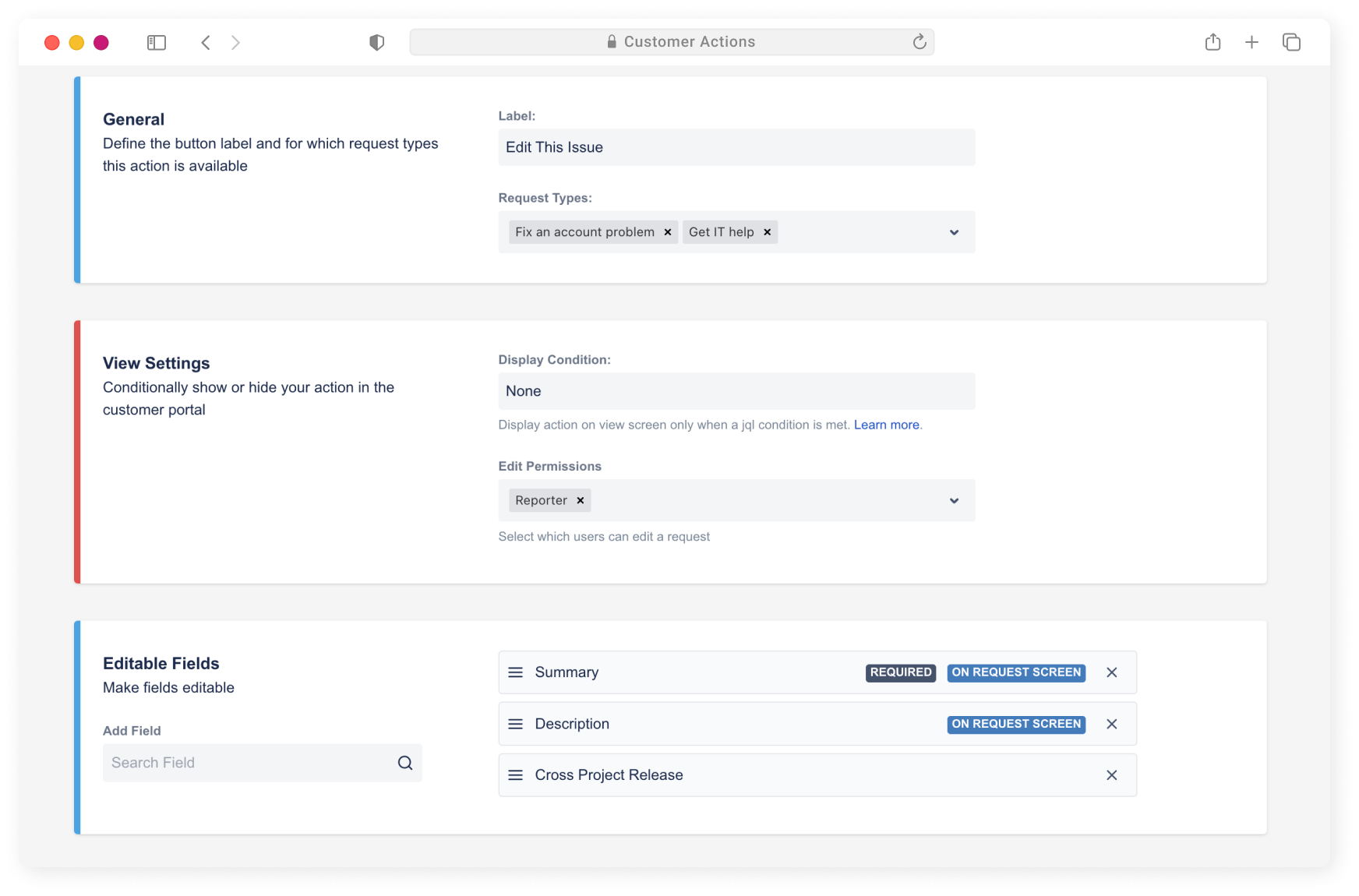 By allowing customers to edit requests or add additional information, you're providing them with a sense of control and involvement in the resolution process, which can help improve their overall satisfaction with your product or service.
Selecting and linking related issues
Linking issues is another key feature of Customer Actions for Jira. Enable your customers to select and link related issues during the request creation process, making it easier for your team to understand the big picture and work on resolving all related issues. You can also require customers to select a issue during request creation, which is useful for special request types that necessitate other issues to be present.
You could potentially use this functionality to provide change management with connected issues via your portal by enabling users to select parent changes and create sub-changes as needed.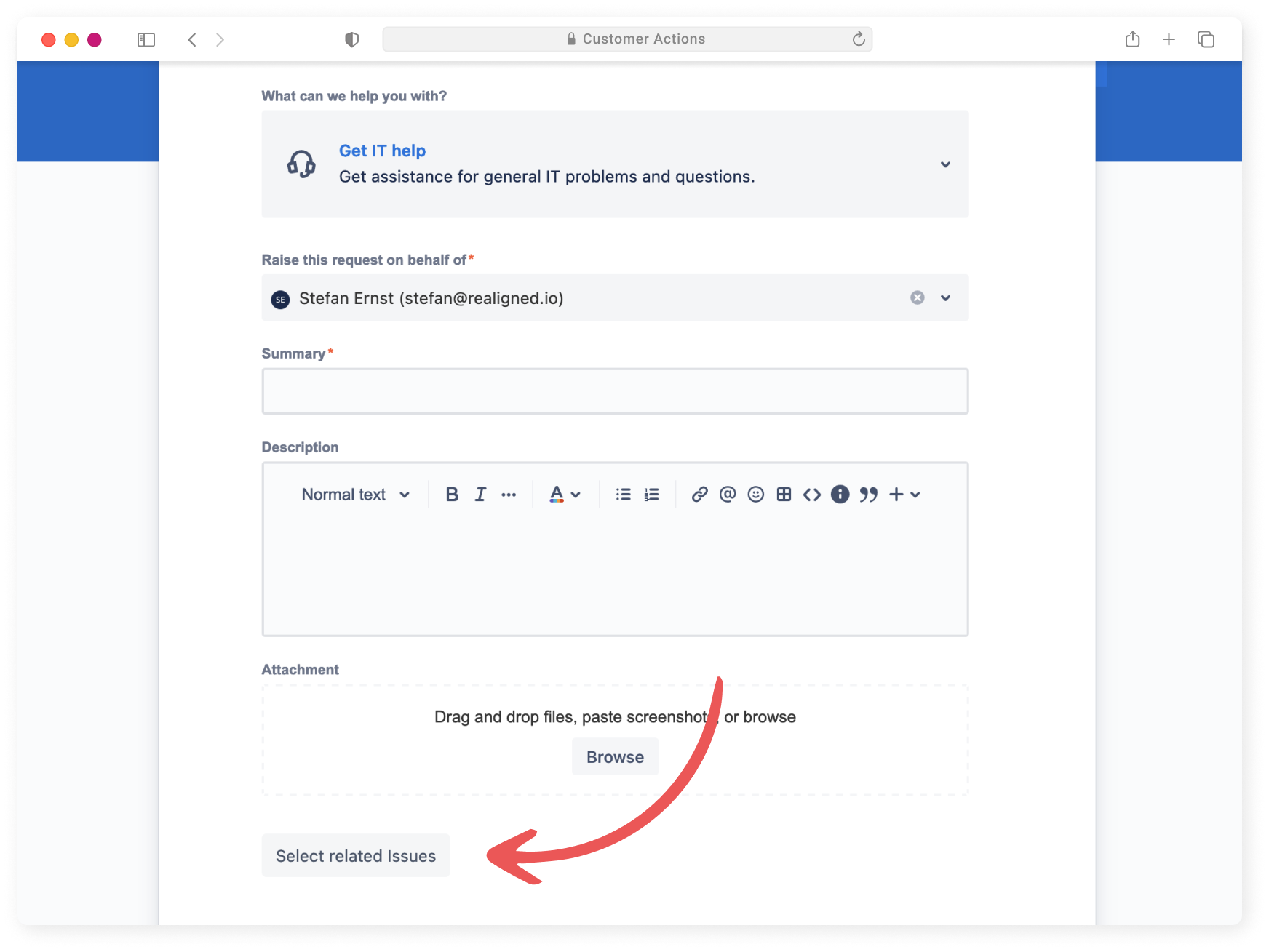 The app also has a configurable issue panel that displays linked issues on the request view, making it even easier to see all related requests. This feature can be especially useful in cases where multiple issues are related to each other and need to be resolved together. By linking these issues, your team can see the complete picture and work on resolving all related requests in one go, reducing the time and effort required to resolve them.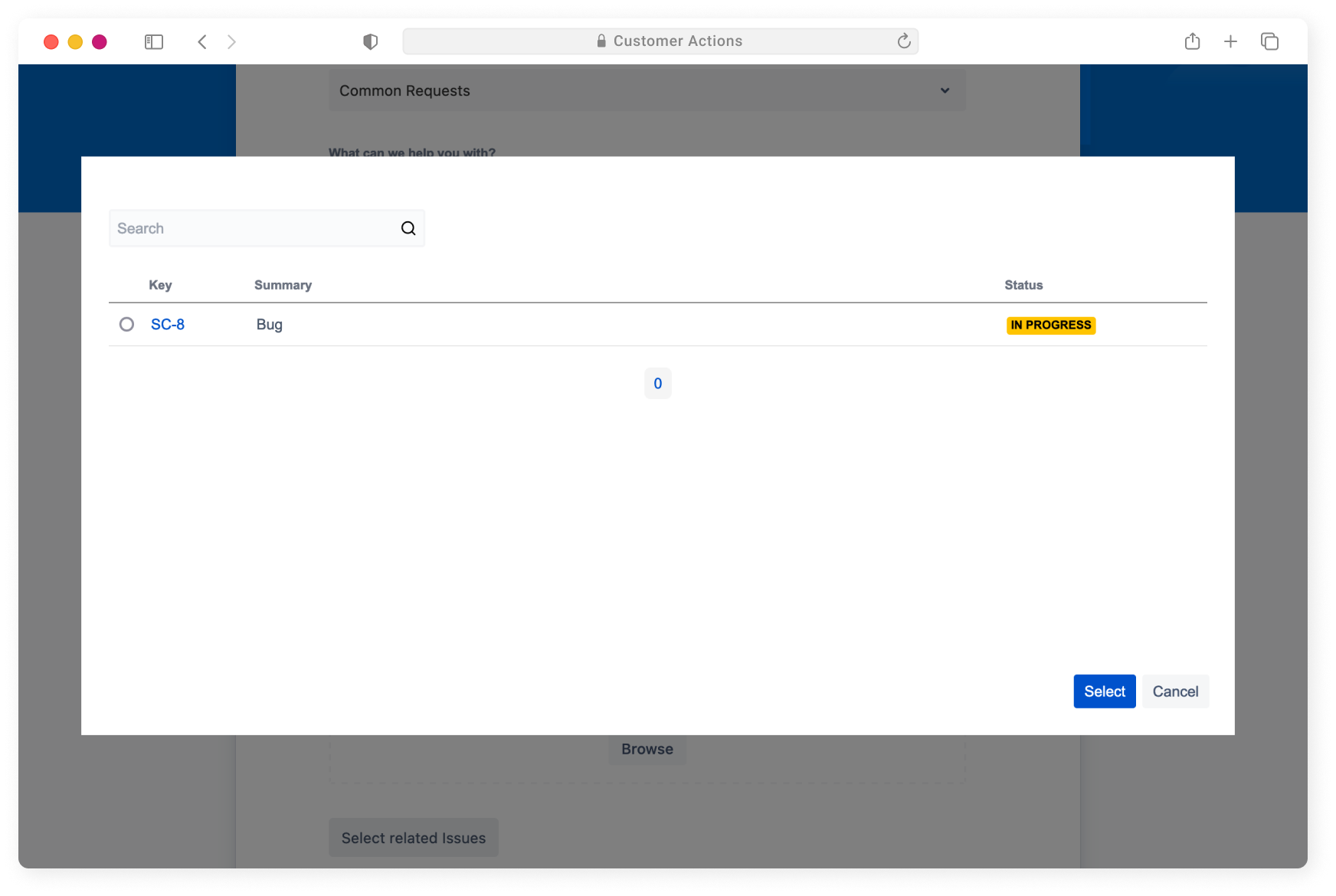 Sign or Acknowledge Documents
Finally, Customer Actions for Jira allows customers to sign documents, providing a way for customers to review and acknowledge important documents. By allowing customers to sign these documents directly from the customer portal, you can simplify and streamline the process, reducing the time and effort required and eliminating paper waste.
You can even make signing a document a requirement for opening an issue. This way you can make sure that the user has read and acknowledged all relevant information before submitting a request. Typical use cases for this could be device usage agreements, license terms, code of conduct or any other electronic contract.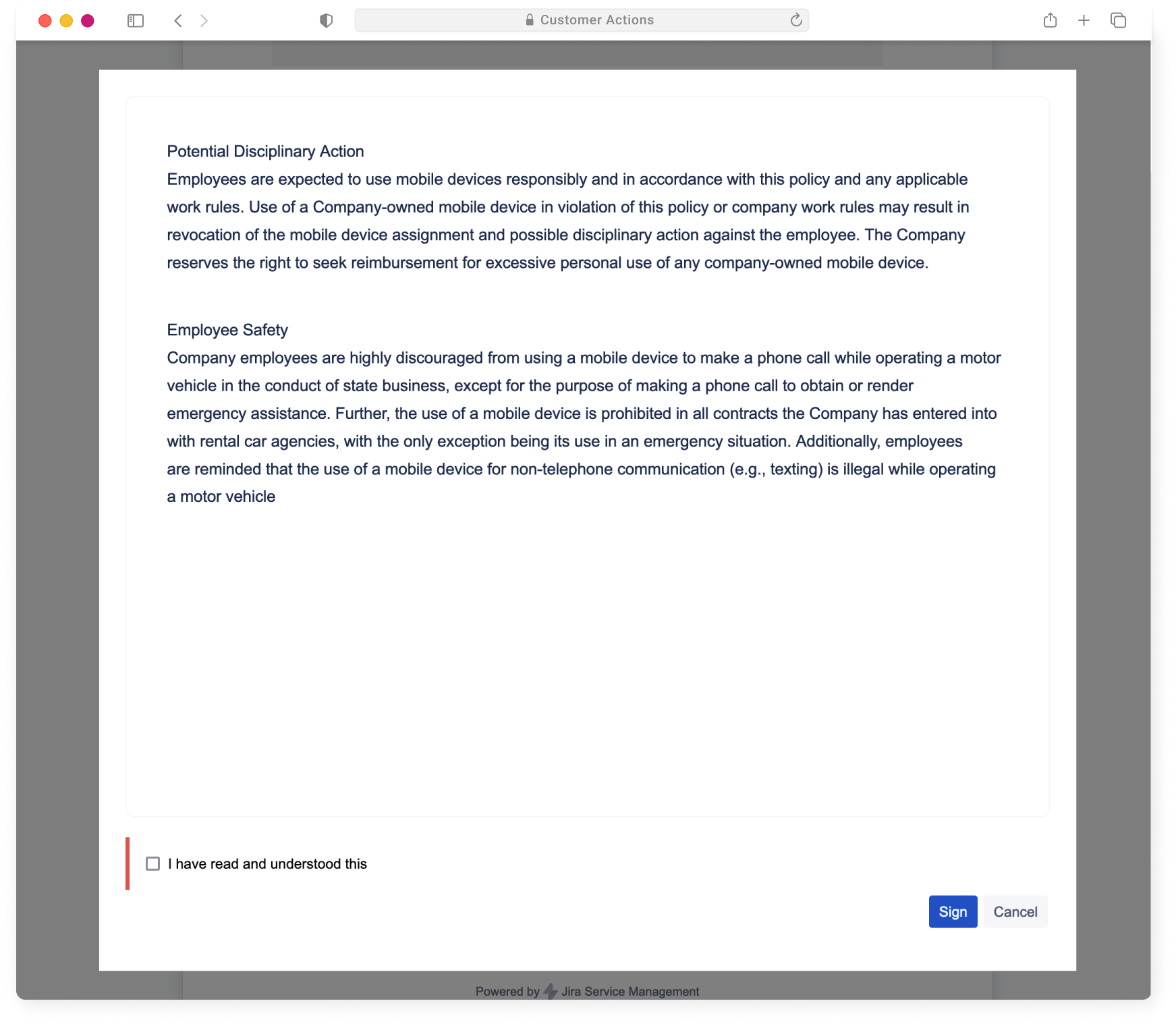 In conclusion, Customer Actions for Jira is a must-have app for companies that want to enhance their customer portal experience.With the capabilities the app provides, your customer portal will become more interactive, efficient, and user-friendly, leading to improved customer satisfaction.
If you want to learn more, check out the usage examples in our documentation or reach out to us for a personal demo!
Do you have questions? We are here to help!